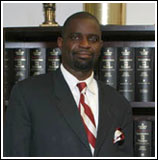 Born in Nigeria, he received his undergraduate degree in Economics from Imo State University, Nigeria, and his Juris Doctor Degree from University of Minnesota School of Law in 1991. Mr. Emeziem also has a masters degree in Health Care Administration from Walden University. He is a member of the California State Bar, is admitted to practice before the Central, Eastern, Northern and Southern District Courts of California, and the United States Court of Appeals for the Ninth Circuit. Mr. Emeziem is also a Real Estate Broker. Finally, some of the cases handled by Mr. Emeziem before the United States Ninth Circuit Court of Appeals and the California Court of Appeals have been published. Since Mr. Emeziem began practicing law he has represented clients in the areas of Corporate law, Immigration law, Personal Injury and general consumer law, Mass tort litigation, Employment law, Family law, Criminal Defense, Probate law, trust law, Real Estate law and appellate practice. Mr. Emeziem has litigated cases that have resulted in settlements worth millions of dollars and he has conducted jury trials that have resulted in six figure jury verdicts.
Mr. Emeziem has brought several cases to arbitration, mediation, and jury trials in several counties in California. He has handled jury trials in both federal and state courts in Orange County, County of Alameda, County of San Francisco, County of Contra Costa, and County of Santa Clara. Mr. Emeziem has over 95% success rate in jury trials. Mr. Emeziem has handled many class action cases in California including the General Chemical litigation in 2003, the Chevron Refinery litigation, Unocal Refinery Litigation and many others.
Mr. Emeziem has handle many appellate cases in both California state and federal courts. Three appellate cases in which Mr. Emeziem handled and won are published decisions. The first case is titled Walter Bateman v. United States Postal Service, et. al, 231 F.3d 1220 (9th Cir. 2000) which has been cited over 166 times published by the United States Court of Appeals, Ninth Circuit. The second case is the case of Nguyen v. Proton Technology Corporation (1999) 69 Cal.App.4th 140, 81 Cal.Rptr. 392 heard by the California Court of Appeals, First District. The third case is the case of Williams v. Wells & Bennet Realtors (1997) 52 Cal.App. 4th 857, 61 Cal.Rptr. 2d 34, heard by the California Court of Appeals, First District.
Mr. Emeziem has substantial, well balanced, and extensive experience in jury trials, arbitrations, mediations, and the handling of civil cases in different areas of law.
You can contact Mr. Emeziem, at Kcemeziem@emeziemlaw.com